Rametrix® AutoScanner V2.0™ - Automated molecular analysis system
The Rametrix® AutoScanner V2.0™ is an automated device designed to analyze the molecular composition of liquid solutions. These liquid solutions (1.5 ml of sample) may include (for example) water samples for pollutant testing, IV drugs and fluids in hospitals that will be used to treat patients, liquid controlled substances, laboratory reagent and buffer solutions, urine and dialysis fluid from patients, and myriad other complex liquids and solutions. A patent application has been filed.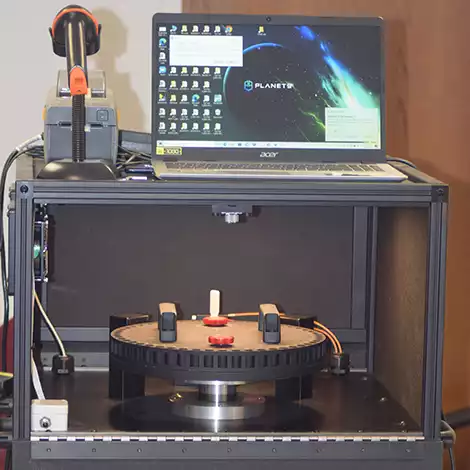 There are three components: a motorized 50-position specimen holder, a Wasatch Photonics 785 nm Raman spectrometer, and a computerized control system for the carousel motor drive, laser probe firing, and Raman spectrum capture/transfer.
The upper and lower chambers are engineered to contain accidental spill/leakage of fluids and all electronic components are protected from fluid damage.
The device is specifically designed to be "lightproof", since ambient light degrades Raman signal quality.
The device is fully ventilated and operates at room temperature (65-80oF).
The design is modular, allowing easy maintenance and replacement of components, if needed.
The unit is supplied with an uninterruptable backup power supply, that allows completion of sample analysis in the event of power outages during operations.
The Rametrix® AutoScanner V2.0™ has a 24" x 24" footprint, is currently configured on a cart for easy movement and positioning, and is approximate 40" tall. The device weighs 205 pounds, including the cart and backup battery.
The Raman laser probe is completely enclosed in the sampling chamber, eliminating accidental operator exposure to the probe when energized and sampling.
Analysis of a fully-loaded (50 specimen) carousel takes approximately 2.5 hours. Sample analysis is non-destructive. 
Minimal training is required for a laboratory technologist to operate and maintain the device. It is intended to operate autonomously (without user intervention) after samples are loaded and analysis begins. 
The sample carousel is removable and with purchase of additional carousels, users could pre-load sample carousels and run up to three complete cycles (150 samples) in a typical 8-hour workday.
The end product of analysis of each specimen is a Raman spectrum that can then be computationally and statistically analyzed to determine the numbers, types, and relative quantities of molecules by assessment of chemical bond energies and configuration through release of Raman scatter energy.
At the completion of each fifty (50) sample run (although any number of samples can be run from 1-50 samples per cycle), the user will have the following information on each sample:1) chemical identity(ies), 2) concentration(s) of molecules and chemicals, 3) information about quality or presence of impurities, and 4) an electronic record of sample analysis for purposes of record keeping and future retrieval, that can be used for specimen management and to comply with regulatory procedures/inspections.
At the present time, there is substantial interest in using the Rametrix® AutoScanner V2.0™ as a Research/Investigational Use-Only Device in the detection of urine abnormalities indicative of disease states.
For more information, please visit the Resources page.
For further information, please contact:
Dr. John Robertson
President, DialySensors Inc.
2000 Kraft Drive Suite 1208
Blacksburg, VA 24060
540-239-0169
WE ARE Rametrix® Technology, Inc.
Every molecular fingerprint matters!