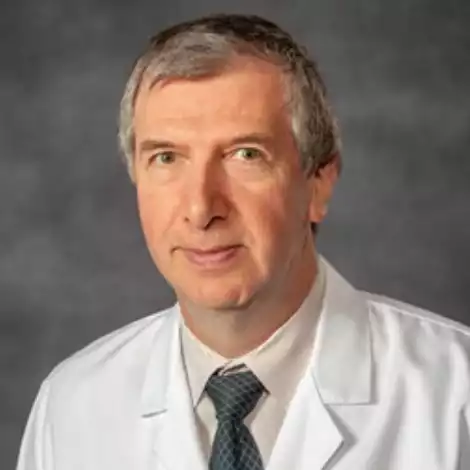 Dr. Georgi Guruli is a Professor, Urologic Oncologist and Director for the Bladder Cancer Program in the Division of Urology, Department of Surgery at the Virginia Commonwealth University School of Medicine.  He also serves as a Staff Physician (Surgery/Urology) at the Hunter Holmes McGuire VA Medical Center in Richmond, VA.
He is internationally recognized for both his expertise in the diagnosis and treatment of genitourinary tract diseases (almost 40 years in medical practice) and as a thought-leader in the clinical biology of genitourinary tract neoplasms (cancer).  His research interests are focused on tumor immunology, mechanisms of tumor escape from immune surveillance, immunotherapy of urological malignancies, identification of the targets for the treatment of urological neoplasms, and early detection of the urological carcinomas.  With his co-investigators, Dr. Guruli discovered one of the mechanisms of prostate cancer escape from immune surveillance, as well as characterized endothelin axis on dendritic cells. He also worked on a bladder cancer model in rats, evaluating the changes in the bladder during MNU-induced carcinogenesis, and the role of vitamin D in the treatment of bladder cancer.  In support of his research, he has been a recipient of institutional, federal (DoD), and international grants.  He has published more than 70 peer-reviewed papers on his work.
He is active in numerous professional and academic venues. He has served as a scientific reviewer for different scientific panels and as a reviewer for several scientific journals. He is an NIH-designated Investigator, participating in clinical trials, at the VCU Massey Cancer Center, for patients with genitourinary malignancies.  Dr. Guruli served as a Chair for the Scientific Panel of the CDMRP (Department of Defense).  He has been a sought-after speaker and presenter at national and international conferences, as well as a member of the multiple professional and scientific societies.
Dr. Guruli earned his MD degree from Tbilisi State Medical University Faculty Of Medicine (1983) and completed his residency in urology at the University of Pittsburgh Medical Center.  He earned his PhD from the All-Union Oncological Research Center (Moscow, USSR). 
Dr. Guruli has been working in the area of cancer research since graduating from the medical school (Tbilisi State Medical University, Georgia, USSR, 1983).  He completed ordinatura (residency) in surgical oncology, after which he worked at the Georgian Oncological research Center (Tbilisi, Georgia) and All-Union Oncological research center (Moscow, USSR), where he obtained his PhD in 1990, evaluating treatment methodologies for bladder cancer. He was involved in clinical trials at these institutions concerning patients with urological malignancies.
After completing residency in urology at the University of Pittsburgh in 2001, Dr. Guruli was awarded an AFUD scholarship and completed a research fellowship in urologic oncology. He then worked at the New Jersey Medical School (2003-2008), and at the Virginia Commonwealth University Medical Center and Massey Cancer Center since 2008, where he became the Director of Urologic Oncology In the Department of Surgery. He received a Physician Research Training Grant from the Department of Defense for prostate cancer research (2005-2011). He is currently the Director of the Bladder Cancer Program. 
He is a Board-certified Diplomate (American Board of Urology) since 2006.